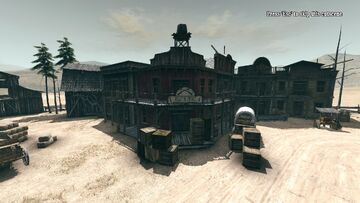 "Tombstone, Arizona territory, October 26. 1881. The Earp brothers will try to take on the Cowboys in the city of Tombstone. Their first objective is gun shop. Then they move on to a Saloon, where more guns are stashed. The action ends up at the O.K. Corral." -Description of Tombstone from Wild West Legends.
Tombstone is a multiplayer map in Call of Juarez: Bound in Blood.
Tombstone is a city in Cochise County, Arizona, United States, founded in 1879 by Ed Schieffelin in what was then Pima County, Arizona Territory. It was one of the last wide-open frontier boomtowns in the American Old West. From about 1877 to 1890, the town's mines produced USD $40 to $85 million in silver bullion, the largest productive silver district in Arizona. Its population grew from 100 to around 14,000 in less than 7 years. In 1881, it became the county seat of the new Cochise County.
Description
Edit
Ad blocker interference detected!
Wikia is a free-to-use site that makes money from advertising. We have a modified experience for viewers using ad blockers

Wikia is not accessible if you've made further modifications. Remove the custom ad blocker rule(s) and the page will load as expected.