"Pat Garret and his posse will attempt to capture Billy the Kid in his Stinking Springs hideout. Attacking lawmen have to take a path around the lake. First point of opposition is an old hut. After it's captured, lawmen must make their way to the other side through an abandoned mill. Once that's done, the way to the Kid's hideout is wide open." -Description of Stinking Springs from Wild West Legends.
Stinking Springs is a location in Call of Juarez: Gunslinger and a multiplayer map in Call of Juarez and Call of Juarez: Bound in Blood.Stinking Springs is famous for being the place where Pat Garret and his posse captured Billy the Kid.
Call of Juarez: Bound in Blood
Edit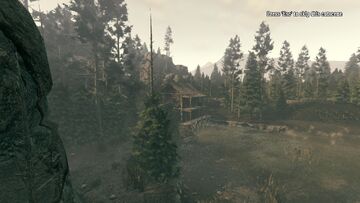 Stinking Springs is located in the New Mexico territory. The game area is heavily wooded and there is a small swamp in the middle of the map. The abandoned mill and old hut are the main points of conflict in the map. In
Wild West Legends
, the Lawmen must first take the the old hut, then the abandoned mill, and finally the hideout to win the match.
The map is based on Billy The Kid's capturing by Pat Garret, at Taiban, in New Mexico.
Ad blocker interference detected!
Wikia is a free-to-use site that makes money from advertising. We have a modified experience for viewers using ad blockers

Wikia is not accessible if you've made further modifications. Remove the custom ad blocker rule(s) and the page will load as expected.