The
Smith & Wesson 5906
, referred to as the
S 5906
, is a weapon featured in
Call of Juarez: The Cartel
.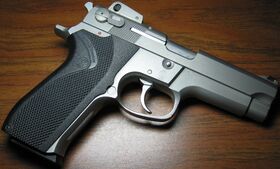 Mechanics
Edit
The 5906 is a double-action/single-action semi-automatic pistol. Constructed from stainless steel, the 5906 is chambered for 9mm Luger Parabellum. While it is a double-action pistol, the 5906 shares the magazine disconnect feature with the Browning High Power meaning the 5906 will not fire without the magazine in place. The 5906 comes with either a 10 or 15 round magazine. The 5906 also has ambidextrous safety levers, a rear wrap-around grip, and either fixed sights or a fully adjustable rear sight.
Call of Juarez: The Cartel
Edit
The S 5906 is used exclusively by Mendoza Cartel members guarding the dilapidated farmhouse and underground tunnels. It is unlocked by achieving level 4 in the Secret Agenda. It is one of the two default pistols on the Cop team in Multiplayer.
Ad blocker interference detected!
Wikia is a free-to-use site that makes money from advertising. We have a modified experience for viewers using ad blockers

Wikia is not accessible if you've made further modifications. Remove the custom ad blocker rule(s) and the page will load as expected.