Patrick "Pat" Garrett
is a character featured in
Call of Juarez: Gunslinger
. He is accredited with killing
Billy the Kid
.
He was born on June 5, 1850 and died on February 29, 1908. He was a well dressed man with brown hair that had a rough mustache. He was a lawman, bartender, and customs agent. He was also one of the men involved with tracking down those responsible with the Lincoln County War.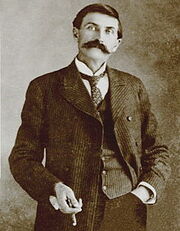 In
Call of Juarez: Gunslinger
, Pat Garret is featured early on in the hunt for Billy the Kid. He arrests both Billy and
Silas Greaves
, who soon escape. The player must have a duel with him.
Ad blocker interference detected!
Wikia is a free-to-use site that makes money from advertising. We have a modified experience for viewers using ad blockers

Wikia is not accessible if you've made further modifications. Remove the custom ad blocker rule(s) and the page will load as expected.