Joseph B. Reynolds
is a supporting character in
Call of Juarez: The Cartel
. He is the Deputy Attorney General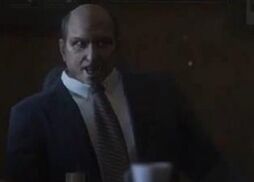 of the United States.
Early Life
Edit
Reynolds had for an unknown amount of time been the Deputy Attorney General for the United States.
Call of Juarez: The Cartel
Edit
A week after the Independence Day Bombing, Reynolds and Shane Dickson held a meeting with Kim Evans and Eddie Guerra regarding to them joining the Interagency Task Force. Reynolds briefly interrupts, informing the group he has a meeting. Handing the power of the Task Force to Dickson, Reynolds tells Dickson "Ms. Dickson, it's all up to you. Don't fuck it up." Reynolds opens the door to let a man in, and leaves.
As the Task Force heads for the Sequioa National Forest, a news broadcast details Reynolds being interviewed by several news reporters on the Task Force.
If the player chooses to not fight. Joseph B. Reynolds announces that while Dickson, Eddie, and Kim were arrested, they were able to successfully destroy the Mendoza Cartel. Reynolds then congratulates Antonio Alvarez for "having the courage to do the right thing".
Appearance
Edit
Joseph B. Reynolds is an older man in his late forties. He wears a grey suit and tie, white shirt, and black shoes. He has a prominent nose, and brown hair that is balding. He also speaks with a deep southern accent.
Personality
Edit
Reynolds is a very serious man who will stop at nothing to reduce crime in the United States, and to have the Mendoza Cartel liquidated.
Reynolds is a playable character for Team Cops in multiplayer. He is referred to as "FBI Agent".
In real-life the current Deputy Attorney General is James M. Cole
Ad blocker interference detected!
Wikia is a free-to-use site that makes money from advertising. We have a modified experience for viewers using ad blockers

Wikia is not accessible if you've made further modifications. Remove the custom ad blocker rule(s) and the page will load as expected.