Jorge
is a character featured in
Call of Juarez: The Cartel
. He is a member of the street gang
Araña
.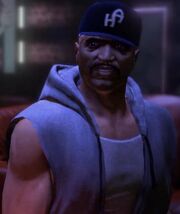 Call of Juarez: The Cartel
Edit
During the events of the Cartel, the Interagency Task Force meets Flaco a weak, feeble street dealer and tells him to contact Araña as they have the Cartel's cash and want to deal for drugs, but actually need information on the Cartel and want to hurt relations between the two.
A few minutes after Flaco reluctantly agrees to call them, Jorge and Sergio, two high ranking members of Araña, arrive at his apartment. They shoot Flaco as they believe he is a traitor.
As Jorge and Sergio leave, the team follows them to the El Dorado nightclub. There the team comes across Jesús Mendoza whom they want to interrogate on the whereabouts of Jessica Stone.
However, Jorge intervenes. When the Task Force reveals to Jorge they have the cartel's cash (Eddie Guerra having told Flaco about their plan), Jorge insults Ben McCall and threatens him. Angered, Ben whips out his pistol, and shoots Jorge in the face, killing him. This results in a shootout with the Task Force and Araña gangsters throughout the nightclub and into the streets.
Later, if playing on the criminal team in Multiplayer, the team announcer will mention that a bomb was planted to get vengeance for killing Jorge. The team must defend the bomb until it blows up.
Appearance
Edit
Jorge was a physically imposing man in his late twenties. He had a prominent nose, and thick mustache. He wore a white bandana under a blue flatbill cap with the letters "HA" emblazoned across it. He also wore a white muscle shirt, and grey sleeveless hoodie, and baggy brown cargo pants.
Personality
Edit
An athiest, Jorge has no problem silencing someone to protect the gang or Jesús. He was also very arrogant, and had a jock-like attitude.
"Hey! You must be Flaco's chota. He said there were three. Though he didn't say that the mayata was so bootylicious."
"Yeah she's hot but high maintenance." - Jorge and Eddie Guerra.
"We want to talk to Jesús."
"Jesús? You want to talk to Jesús? That can be arranged amigo. All you need to do is get on your knees, put your hands together, and pray.....are you ready to meet your maker?" - Ben and Jorge.
Jorge's death is the only time Ben canonically uses his 92FS.
Ad blocker interference detected!
Wikia is a free-to-use site that makes money from advertising. We have a modified experience for viewers using ad blockers

Wikia is not accessible if you've made further modifications. Remove the custom ad blocker rule(s) and the page will load as expected.