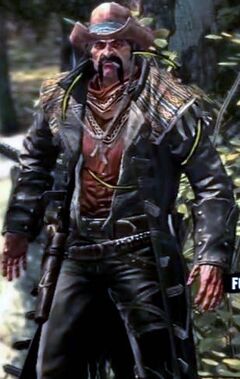 John Peters "Johnny" Ringo (May 3, 1850 – July 13, 1882) was an outlaw Cowboy of the American Old West who was affiliated with Ike Clanton and Frank Stilwell in Cochise County, Arizona Territory during 1881-1882.
On July 14, 1882, Johnny Ringo was found dead in the crotch of a large tree in West Turkey Creek Valley, near Chiricahua Peak, with a bullet hole in his right temple and an exit wound at the back of his head. The truth behind his death is unknown, whether it was suicide or a murder, but Silas gives his recollection of events.
Call of Juarez: Gunslinger
Edit
Ringo appears at the end of the " Gunfight at the Sawmill " as that level's duel opponent. He is mentioned several times afterwards throughout the game and appears in a ghostly form during the Ghost Town of the final level, firing his twin pistols upon the player. He is one of the three main antonogists in the game, and the first Silas takes his revenge upon. 
Appearance
Edit
Johnny Ringo is a very tall, broad shouldered man who has a very long handlebar moustache, black hair and a serious, angry expression . He wears a long black Western duster with a poncho design on the shoulders, a black waistcoat left unfastened, a red shirt, brown bandana, black slacks and a tan coloured cowboy hat. He wears matching black holsters on his hips and carries two Six-Shooters which he shows off with a flourish during his opening cutscene before his duel. He is seen smoking a cigarello which he discards, and a bird is present nearby during his opening cutscene but it's unknown if this belongs to him.
Ad blocker interference detected!
Wikia is a free-to-use site that makes money from advertising. We have a modified experience for viewers using ad blockers

Wikia is not accessible if you've made further modifications. Remove the custom ad blocker rule(s) and the page will load as expected.