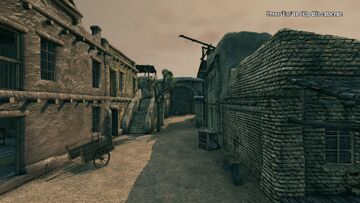 "Frisco, New Mexico territory, December 1. 1884. Elfego Baca and his deputies will defend themselves against a mob of outlaw cowboys. Outlaws will start by breaching the town gates. Once inside, they break through another gate to get to the inner part of town. Then, they'll rush for the guardhouse." -Description for Frisco in Wild West Legends.
Frisco is a multiplayer map in Call of Juarez: Bound in Blood.
In the 1860s, Mexican-Americans established a string of villages along the river, naming them the Upper, Lower, and Middle San Francisco Plazas. In the late 1870s Anglo settlers began arriving. They renamed Upper Frisco Plaza as Milligan's Plaza, naming it after a merchant and saloon owner.
Milligan's Plaza was the site of the legendary Frisco Shootout of Elfego Baca. In 1882, or perhaps 1884, the nineteen-year-old Baca apparently appointed himself deputy sheriff and rode 130 miles from Socorro to the Plaza. There he set about bringing justice to the Mexican-American community which had been beset by drunken cowboys.
Outnumbered by 80 Texans, Baca holed up in a jacal, the flimsiest kind of hut, and was besieged by the mob. Bullets and dynamite could not dislodge him, and in a gun battle lasting 33 hours, he inflicted death and grievous injury on some of his adversaries without being injured himself.
Description
Edit
Frisco is a very large map with many different paths, with almost every structure able to be entered. There are stables on one side of town and a saloon on the other. There are also various staircases that give players the highground. The town is adorned with many abandoned wagons, barrels, boxes and carts. The saloon sees a lot of action in Manhunt mode, as players will enter this structure and situate their wanted man on the second floor, with the other team members covering the entrance and staircases. It isn't recommended to roam the streets, as doing such makes the player an easy target for Snipers on the rooftops, who are often hard to locate amongst the various different buildings. In Wild West Legends, Outlaws first have to enter the town by blowing up the town gate, and then by destroying a second gate in order reach the guardhouse.
Ad blocker interference detected!
Wikia is a free-to-use site that makes money from advertising. We have a modified experience for viewers using ad blockers

Wikia is not accessible if you've made further modifications. Remove the custom ad blocker rule(s) and the page will load as expected.