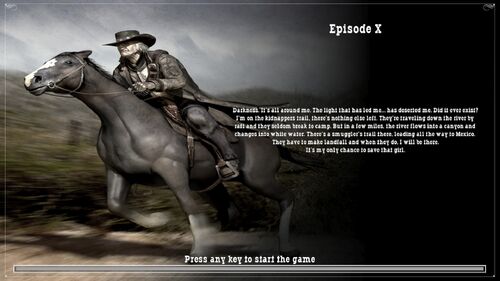 "Darkness. It's all around me. The light that has led me... has deserted me. Did it ever exist? I'm on the kidnapper's trail, there's nothing else left. They're travelling down the river by raft and they seldom break to camp. In a few miles, the river flows into a canyon and changes into white water. There's a smuggler's trail there, leading all the way to Mexico. They have to make landfall and when they do, I will be there. It's my only chance to save that girl."
-Reverend Ray, introduction to Episode X.
Episode X, A Pursuer Swifter Than Eagles in the Sky is the tenth episode of Call of Juarez. Reverend Ray pursues Ty Stewart and his men across the frontier, determined to rescue the abducted Molly Ferguson.
<Episode IX> <Episode XI>
Characters
Edit
Secret #29 "Marcin Sobanski" -
Secret #30 "Rafal Stasiak" -
Achievements (Xbox 360)
Edit
Horseman (20g) - In Episode X kill 7 enemies while in the saddle.
Ad blocker interference detected!
Wikia is a free-to-use site that makes money from advertising. We have a modified experience for viewers using ad blockers

Wikia is not accessible if you've made further modifications. Remove the custom ad blocker rule(s) and the page will load as expected.