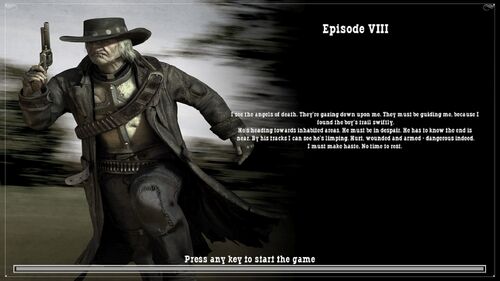 "I see the angels of death. They're gazing down upon me. They must be guiding me, because I found the boy's trail swiftly. He's heading towards inhabited areas. He must be in despair. He has to know the end is near. By his tracks I can see he's limping. Hurt, wounded and armed - dangerous indeed. I must make haste. No time to rest." -Reverend Ray, introduction to Episode VIII.
Episode VIII, Out of Darkness the Eyes of the Blind Will See is the eighth episode of Call of Juarez. After picking up the trail of Billy Candle after the incident with the train, Reverend Ray pursues him to the Ferguson ranch, where he encounters a group of Texas rangers also in pursuit of the young fugitive.
Characters
Edit
Secret #24 "Marcin Piaskiewicz" -
Secret #25 "Piotr Prokop" -
Achievements (Xbox 360)
Edit
Accurate guy (25g) - In Episode VIII kill McLyde Brothers with 2 bullets only.
Ad blocker interference detected!
Wikia is a free-to-use site that makes money from advertising. We have a modified experience for viewers using ad blockers

Wikia is not accessible if you've made further modifications. Remove the custom ad blocker rule(s) and the page will load as expected.