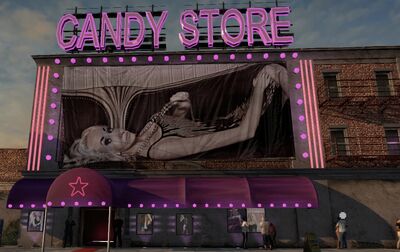 The
Candy Store
is a gentleman's club featured in
Call of Juarez: The Cartel
. It is located in Los Angeles.
Background
Edit
The Candy Store is a very exquisite gentlemen's club. It is owned by Javier, but it seems to also be ran by Dolores.
Call of Juarez: The Cartel
Edit
The Interagency Task Force heads to the Candy Store to interrogate a dancer named Tina on the whereabouts of Nicole Hart. The team locate Tina who reveals that Javier kidnapped Nicole. The team ensue in a footchase through parking lots and back alleys where they successfully apprehend Javier.
Employees
Edit
The song that plays in the club is "Gangster Girl" by Midget Loco.
A stripper can be seen sitting in a chair topless. This is the first instance of nudity in Call of Juarez: The Cartel, and in the series as a whole.
Ad blocker interference detected!
Wikia is a free-to-use site that makes money from advertising. We have a modified experience for viewers using ad blockers

Wikia is not accessible if you've made further modifications. Remove the custom ad blocker rule(s) and the page will load as expected.