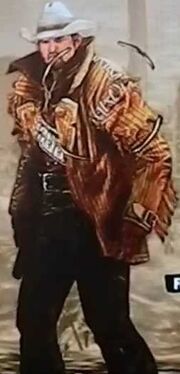 Robert Leroy Parker
 (April 13, 1866 -1910), better known as
Butch Cassidy
was a notorious American train robber, bank robber, and leader of the Wild Bunch Gang in the American Old West.
After pursuing a career in crime for several years in the United States, the pressures of being pursued, notably by the Pinkerton Detective Agency, forced him to flee with an accomplice, Harry Alonzo Longabaugh, known as the Sundance Kid, and Longabaugh's girlfriend, Etta Place. The trio fled first to Argentina and then to Bolivia, where Parker and Longabaugh were probably killed in a shootout in November 1908.
Call Of Juarez Gunslinser
Edit
Butch Cassidy takes part in the stages of "Not so Great Train Robbery" and "The Good, the Bad and the Dead".
Ad blocker interference detected!
Wikia is a free-to-use site that makes money from advertising. We have a modified experience for viewers using ad blockers

Wikia is not accessible if you've made further modifications. Remove the custom ad blocker rule(s) and the page will load as expected.