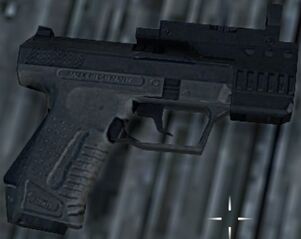 The
Walther P99
, referred to as the
B99
, is a weapon featured in
Call of Juarez: The Cartel
.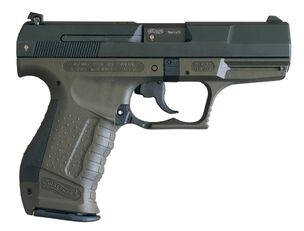 Mechanics
Edit
The Walther P99 is a short recoil-operated locked breech semi-automatic pistol. The P99 has a glassfiber-reinforced polymer frame and steel slide assembly. It uses an internal striker as opposed to a hammer, with a striker tip that protrudes from rear of the slide when the gun is cocked, as well as a loaded chamber indicator.
The original first generation P99 had a traditional double-action/single action trigger with a decocker. When the slide is racked to the rear upon loading, the trigger remains in the forward position for the first shot and then allows the pistol to fire in double-action.
The slide and other metal parts of the pistol are Tenifer treated. The Tenifer process makes the P99 suitable for individuals carrying the pistol concealed as the highly chloride-resistant finish allows the pistol to better endure the effects of perspiration.
The P99 features four internal safeties, iron sights adjustable for both windage and elevation, toolless take down, and an ambidextrous magazine release incorporated into the trigger guard. The lower forward edge of the frame also known as the dust cover has a mounting-bracket or rail interface system for attaching accessories, such as a tactical light or laser pointer.
Call of Juarez: The Cartel
Edit
The B99 is only available to users who pre-ordered Call of Juarez: The Cartel on Amazon. The B99 has a tan finish finish, and a reflex sight. The B99 like other handguns, can be dual wielded. Just like the C75, M24, PKM, TMP and Scoped PPC, the B99 is not used by enemies.
While advertisements labeled the weapon as the "Zooming Automatic Pistol" or Z.A.P. for short, ingame it is referred to as the B99.
With a simple text file edit, the B99, TMP, and PPC Scoped can be made available for use.
Ad blocker interference detected!
Wikia is a free-to-use site that makes money from advertising. We have a modified experience for viewers using ad blockers

Wikia is not accessible if you've made further modifications. Remove the custom ad blocker rule(s) and the page will load as expected.